My name is Phil Brock. I am a candidate for Santa Monica City Council. I am beyond distressed at the simple lack of listening, absorbing and responding to the current citizens of Santa Monica by the majority on the dais.

I Will Listen To You I can't promise I will be everything that each citizen wants but I will promise that I will listen. The citizens of Santa Monica who have invested so much of their lives in their neighborhoods must be respected. Our citizens have wisdom, they know why they moved to this place and what they want the future of Santa Monica to be. I do not believe that high rises, massive developments, streets that become canyons of buildings, or roads that can't be navigated by our families are what my grandparents moved to Santa Monica for in the 1920's. My family certainly did not settle in Santa Monica to be plagued by rampant crime or to be scared of our streets. We must restore public safety to our city. That is the highest priority our local government has in 2020.

I Am Committed to Reducing Crime and Restoring Public Safety Between the cacophony of major crime, burglaries, assaults, and robberies the dream of Santa Monica has been lost. We must have city council members with backbone, who are firmly committed to restoring the soul and safety of our city. I'm fed up! I hope you are as well. It's time to make a change.

I Will Support Slow Growth and Reduced Traffic All of us live in this magical city because of the simplicity of fresh air, palm trees, the fog, the sun, the ocean, the nearby mountains and our city's big, inclusive heart. I fear that heart is being lost. Big business wants to take the heart out of our city, to replace it with tall, dense buildings and twenty four hour a day traffic jams. That is not why I stayed in the city I was born in, that's not why my mother is still here...it's the openness of Santa Monica that we like, it's that magical combination of great schools, superb green spaces, the ocean, the cool breezes and the notion that a city could be more humane, more livable and more unique that kept us here.

I Want to Hear From You Santa Monica is a treasure...let's keep it that way. I want to hear from my neighbors. I am happy to meet on your socially distanced street corners, via zoom, anywhere that is safe for all of us to discuss the issues that are important to Santa Monica and I hope I will have your support.

Please Donate

Unlike the incumbents, whose campaigns are supported by developers and PAC's, my campaign is only supported by each of you, my neighbors in Santa Monica. We are in a fight for the soul and safety of our town. Please donate today!

https://votebrock.org/contribute
An Independent Voice. A Lifetime of Experience.
Fighting FOR Residents, Every Day!
News
Friday, October 23, 2020 10:19 PM
The Santa Monica Mirror issued a strong endorsement this morning for this team of four eminently qualified candidates for Santa Monica City Council. The Mirror endorses 𝑷𝒉𝒊𝒍 𝑩𝒓𝒐𝒄𝒌, 𝑪𝒉𝒓𝒊𝒔𝒕𝒊𝒏𝒆 𝑷𝒂𝒓𝒓𝒂, 𝑶𝒔𝒄𝒂𝒓 𝒅𝒆 𝒍𝒂 𝑻𝒐𝒓𝒓𝒆, 𝒂𝒏𝒅 𝑴𝒂𝒓𝒊𝒐 𝑭𝒐𝒏𝒅𝒂-𝑩𝒐𝒏𝒂𝒓𝒅𝒊 for the four open four-year seats on our City Council.
As a lifelong Santa Monica resident and editor of the Mirror, I am endorsing Phil Brock for Santa Monica City Council because the city needs new local perspectives and deeply invested members of the community willing to deviate from city staff policy recommendations. Groupthink–making decisions in a way that discourages difference–is not how government should be run and generally does not lead to the best decisions. This is why I am voting for Phil Brock. He is a lifelong Santa Monica resident who will be willing to vote against the status quo if the matter before them is not in the best interest of their constituents.
---
Friday, October 23, 2020 10:17 PM
After months of being stuck at home, many Americans know full well that there are three things they can't live without. Two of them are power and water. The third, I'm sure, will be obvious to all. Internet access.
---
Sunday, October 18, 2020 8:47 AM
Santa Monica Observer Endorsement
The Santa Monica Observer wrote a strong endorsement of my campaign for Santa Monica City Council this week. Read it here:

---
Tuesday, October 13, 2020 7:58 PM
Spurious Charges Against Santa Monica City Council Candidate Phil Brock
Here is my statement on this bogus charge. This is the third "hit" piece against me in eight days. Obviously the opposition is worried and unable to discuss policies that will help the residents of Santa Monica. Instead, they go after me, my significant other, and my mother. Disgraceful!
Once again, Joel Koury has filed a baseless complaint against me. Mr. Koury falsely alleges that I have failed to properly register my business with the City and that I am illegally utilizing a rent-controlled apartment. There is no basis for these complaints.
My 92-year-old mother owns the apartment building on 12th Street. She inherited this building from her mother, my grandmother. My mother has lived at this location for almost 75 years. I am at my apartment at the building daily – in part to care for my mother and in part to attend to my business which I conduct there. I pay rent to my mother for the apartment and have always done so.
My business, Studio Talent Group, has been licensed (#089332) by the City of Santa Monica as operating at this location for more than 20 years. I began using an apartment in my family's building when the apartment was vacant, so no tenant was displaced when I occupied the apartment for my own use. My business operates largely as a home office, consistent with laws governing such use in residential areas.
Mr. Koury also appears suspicious of the number of Phil Brock for Council signs at this location. Mr. Koury will have to take this issue up with my mother, who has them posted in her window.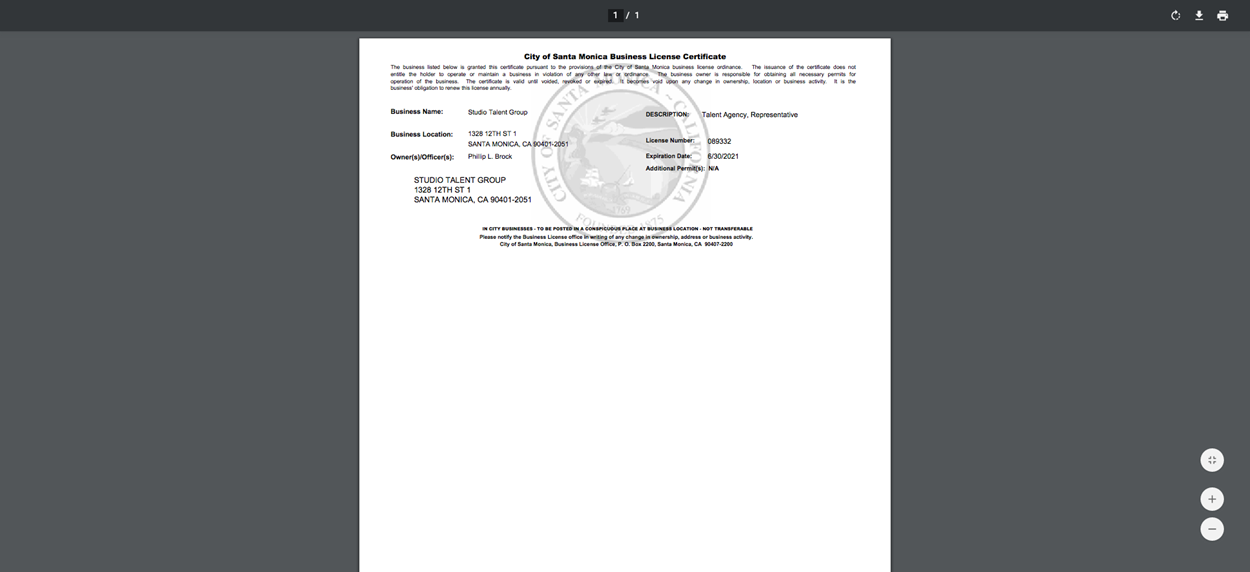 ---
Friday, October 2, 2020 8:23 AM
Los Angeles Magazine asked top local architects for bold solutions to L.A.'s homeless crisis. Here's what they came up with.